Pop Kei, one of the many kawaii street fashion styles born from Japan, is basically a culmination of kawaii, 80's pop fashion, vintage cute and sports gear clothing.
Many girls often merge Pop Kei and
Fairy kei
styles together, and for this reason Pop Kei itself can sometimes be hard to tell apart. It's also often confused with Spank! styles (although the two are very similar, there are differences).
Pop Kei looks often contain a larger range of colours, that are usually darker and brighter than those worn as part of
Fairy Kei
outfits (
Fairy Kei
looks are almost exclusively pastel coloured).
Pop Kei looks can also be less girly then Fairy Kei looks too, including more trousers, shorts and leggings rather than skirts and dresses.
In general, staples of Pop Kei looks are;
~ Polka-dots
~ Denim and leather aspects
~ Dark or even black garments
~ Graphic prints
~ 80's pop aspects.
~ Sporty trainers, baseball caps and bomber jackets.
As mentioned earlier, Pop Kei outfits are darker in tone than fairy kei outfits. Like seen below, dark Pop Kei looks can include dark demin, white on black polka dots, leather jackets, and even all black garments (which you would never find in a fairy look). All with brighter accessories or undertones that relate back to the 80's pop.
Then of course, you can have brighter Pop Kei looks
, that can also take elements from
Decora
and
Fairy Kei
. The dark colours in the outfits below keep the looks alined with Pop Kei, but neon pinks, blues and purples play on the 80's pop in a bolder way. Baseball caps and hi-tops also give the sporty edge to these looks as well.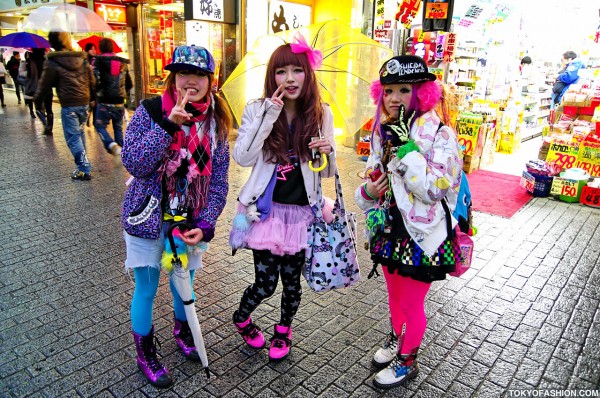 Brighter Pop Kei wearers often include neon garments, accessories and make up too. Where as darker looks can be more toned down and casual in style.
So! We hope this article has helped you learn a little more about the difference between Fairy kei and Pop Kei!
Thanks for choosing Kawaii-B! Your number one place for Kawaii in the UK!