♥Kogal is a subculture of gyaru fashion that focuses on Japanese school fashion. Kogal is typically seen with loose socks,a shorted skirt and often dyed hair. While they used to have a bad reputation, popularity of the fashion sub-culture has recently increased
♥
The term "Kogal" comes from Kogyaru which is short for
Kokosei (High school) Gyaru (Gal or Girl)
Hair
The hairstyle which is mostly seen is curly in natural colours such as
dark brown,light brown, blond or black.
Makeup
Big doll-like eyes, slightly blushed checks and pink lips.
The typical Kogal makeup involves typical Gyaru makeup.
Fake eyelashes are put on the outer corner of your eye with a fake eyelash line
which is done by drawing a line with your eyeliner that slightly extends your
natural
eye
length
.Sometimes a fake tan is also used.
Fake eyelashes are usually
cut in half to add more of a doll-eye effect.
Tops
For tops there are two different styles.A western style with a shirt (White, pink, blue e.t.c)
and tie or a bow and sometimes a vest or a more tradional Japanese style with a sailor styled top known as a "Seifuku" (Sailor Fuku) as seen in the picture to the left.
The bows come in a variety of colours and a variety of patterns
including checkered and spotted.
Skirts
A shortened, pleated, checkered skirt is usually used, matching the colour of the bow or tie.
White, lose socks is normally used
however you can also see tattoo tights or thigh high socks being used.
Shoes
As for shoes traditional Japanese school shoes are usually used
however pumps and boots can also be seen.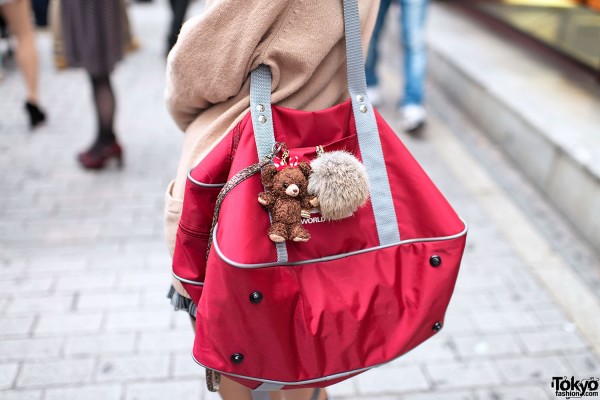 Bags
While other bags are seen, Randoseru (Japanese elementary school bag) and the traditional Japanese school bag which you can see above.
TIP: you can also find them on eBay!
Stores:
lawrarashop
(Bags, Uniforms,shirts,sweaters,socks, ties and ribbons,shoes)
Lunatu
(UK based makeup store)
Warning: be-careful on tumblr- it would be best if you kept security on when searching kogal
Thanks for choosing Kawaii-B! Your number one place for Kawaii in the UK!