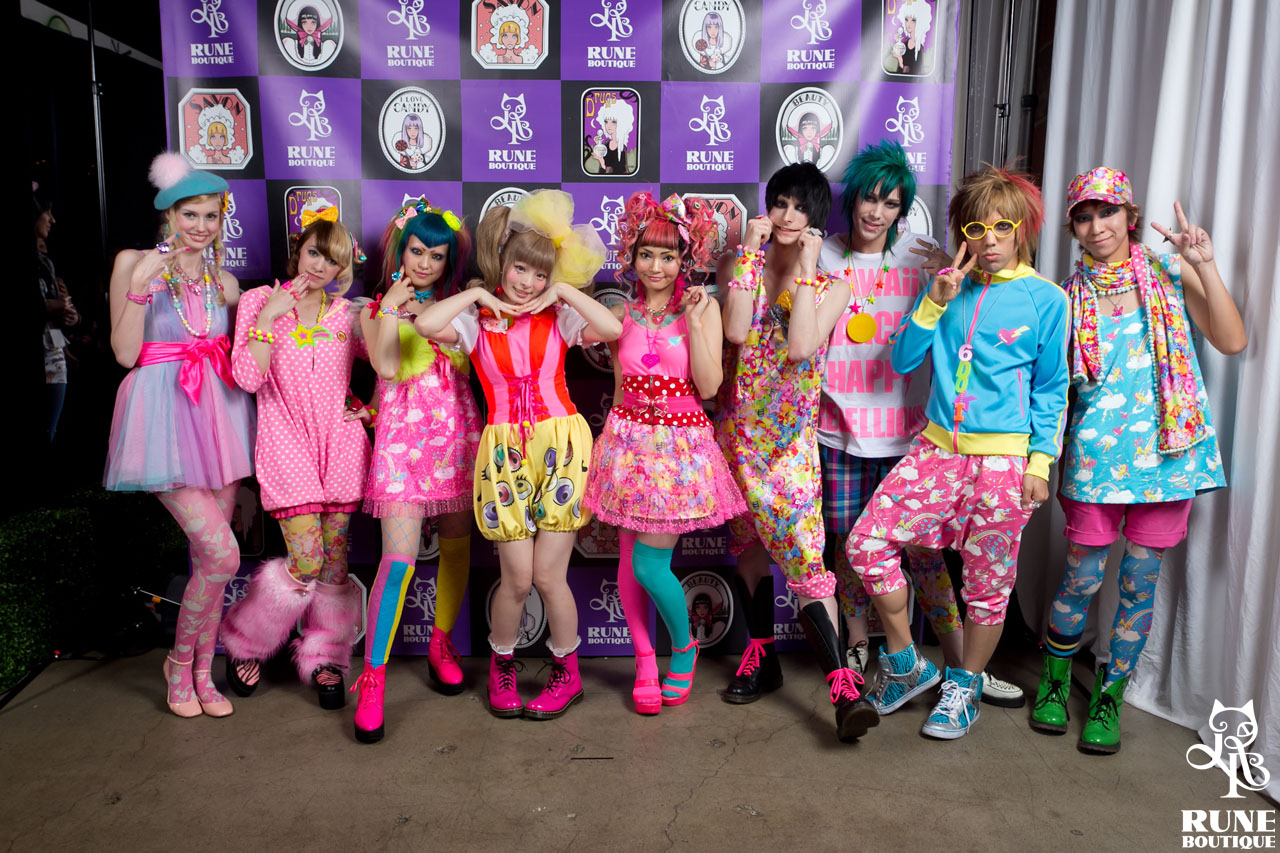 Photo Credit: tokyofashion.com
When we talk about Kawaii fashion, what do we actually mean? With more and more young women here in the UK getting into this new and exciting subculture from Japan, it's not surprising that there is a lot for us to learn about it, and where it comes from. So let's look at a little of its history before diving into the amazing world of Kawaii fashion.
Cute donuts on sale in Japan. Photo Credit: kokatu.com
Kawaii (roughly translated into the word "cute" in Japanese) is far more than a fashion subculture, and can now be considered a worldwide craze that enchants thousands of girls all over the globe with its cute character icons and fun, bright, or even crazy strains of fashion. In Japan, Kawaii is not just a cute way of dressing, but a deep set part of culture that effects entertainment, food, toys and even every day mannerisms. It is thought that the concept of Kawaii evolved from the harmony-loving part of Japans heritage. With the words "cool", "groovy", "acceptable", "desirable", "charming" "non-threatening", and "innocence" all being secondary meanings of the word Kawaii. In Japan, even women in their 30's still strive to look cute, whereas in the West, we are discouraged from this because we believe it suggests immaturity. In Japan however, this youthful innocence is something people love, with young female pop groups, maid cafes, Anime and Lolita fashion splashed all over popular media, it's no wonder we are all taking a leaf out of Japans book of cuteness!
So how has this translated to the UK? Well, in many ways; including anime being aired on our televisions, cuter snacks, Kawaii stores opening online to supply cute Japanese products, Pokemon, and of course Hello Killy. But none are expanding as quickly as the love of Kawaii fashion with teens and young women here in the UK.
When we say Kawaii fashion, it covers a whole range of cute styles and interpretations, the most popular being Lolita, Sweet Lolita, Fairy Kei, Pop Kei, Decora and Spank!. Each of these styles is unique, and yet most people would never know the differences between them! But, speaking generally, Kawaii fashion can mean any style that focuses on a cute look, often consisting mainly of shades of pink, blue, purple and yellow. Kawaii outfits also commonly feature cute characters like bunnies, bears, or cats and also prints or accessories featuring food like ice creams, biscuits or candy. Bolder styles can include large graphic prints and neon colours, as well as large accessories and in your face make up.
But, the easiest way to help you get a grasp on the forever growing world of Kawaii fashion, here is a brief outline of the most popular style types.
Example of a Lolita Photo Credit:laurabububun





Lolita fashion takes its image from Victorian times, with maid/A line style dresses, bows and lace.

There are many different types of Lolita fashion from Traditional, to Gothic. To read more detail about Lolita fashions click here (link added soon).
Example of a Sweet Lolita Photo Credit: Princess-Peachie











Sweet Lolita is a basically a "girlier" version of the classic Lolita look. Instead of darker coloured dresses and accessories, Sweet Lolitas wear mainly pastel pinks blues and purples, often with more lace and accessories too. To read more detail about Lolita fashions click here (link added soon).
Example of Fairy Kei or "Fairies" Photo Credit:Thesushitimes
Fairy Kei is a look that consists of pastel colours (pinks blues and purples) and has an almost "fluffy" appearance with often poofy skirts and wooly sweaters. When styling fairy kei outfits think of the words "soft" and "sweet" and you'll do just fine. To read more detail on Fairy Kei Click Here (link added soon)
Many girls
often merge Pop Kei and Fairy kei together, and for this reason can sometimes be hard to tell apart. Pop Kei is usually associated with looks that contain darker or more neon colours, and are perhaps a little less girly then Fairy Kei looks. Pop Kei outfits contain more denim, graphic prints and polka-dots, and also feature 80's pop aspects of style. Brighter Pop Kei wearers often include neon garments, accessories similar to decora and more make up.
To read more detail on Pop Kei Click Here
Spank! is actually a brand, but its huge popularity means it has become a style in itself. It consists of often vintage and used clothing of similar styles to Pop and Fairy Kei but featuring images like Care Bears, My Little Pony or even characters like Power Rangers. To read more detail on Spank! Click Here (link added soon)
Example of Decora fashion Photo Credit:TokyoFashion.com
Decora Kei is easier to tell apart, and the name says it all. Decora is all about decorating yourself with big, bright accessories. This can even means plushies on your head, or large plastic motifs and icons. Colours have a feel of 80's neon pop, and outfits are often garish and in your face. Usually, Decora involves large amounts of all types of accessories, and is one of the most creative styles in Kawaii fashion. To read more detail on Decora Kei Click Here
So, there are just a few of the interesting styles that all fall under the umbrella of Kawaii fashion. In this article I have focused mainly on Japanese style that associate the closest with Kawaii Culture and cuteness, but there are many other Japanese styles that are lots of fun, a few being Gyaru, Party Kei, Visual Kei, Mori-girl and Shironuri.
For the close, this article should have taught you everything you need to know about the main styles of Kawaii fashion so that now you can enjoy them just like so many other girls in the UK are today!
**please note, in detail articles about particular styles are currently being written, links will be added soon**
Thanks for choosing Kawaii-B! Your number one place for Kawaii in the UK!