This article will teach you how to properly got the most out of your wig, helping it last longer and look even cuter! This article is written as a guide for our customers, but also anyone else who owns a wig too!
After getting your wig
1. When first opening your wig, it may have a strange smell - don't worry! This will go away it is simply proctective dusts/sprays used by mafuacturors to keep the wig as nice as possilbe in transit!
2. Gently shake your wig for at least a minute. This will help make the hair fall in a more natural way when putting it on. You should do this every time you put the wig on.
3. It is a good idea to wash your wig before wearing it for the first time if you have sensitive skin (make sure you use products made for wigs! Read more below).
4. Brush your wig gently with a wide tooth comb or wide tooth brush. Normal brushes can pull out fibres from your wig, so a wide tooth one is better.
Styling your Wig
1. Be CAREFUL when heat styling your wig. ONLY use heat styling when your wig specifically says it contains heat resistant fibres, and always style on the lowest heat setting possible, below 160 degrees.
2. When brushing, brush gently to prevent pulling hair out of the wig.
3. Some styling products designed for human hair will not work right on synthetic wigs because they work by attaching to proteins in human hair, which synthetic wigs don't have. Products like oils, waxes and gels will usually not work well unless they are specially designed for wigs.
One product that is tried and tested is the GOT2B Glued range. It is well known to be a good choice for wig styling in the cosplay community.
4. You will want to store your wigs on a wig stand, the help them keep their shape. If you can't do that, store them gently rolled inside a cotton bag if possible. Also, if you have longer hair, you will need a wig cap. Wig caps help you keep your hair flat under the wig to create a more realistic look!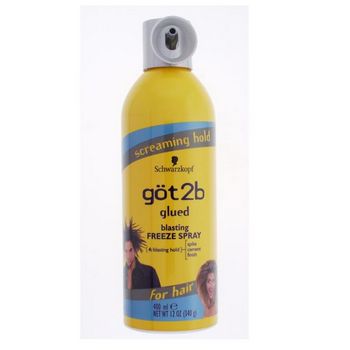 Washing Your Wig
1. A wig should be washed about every 8 - 10 times you wear it, but you should be able to tell when a wig needs washing.
2. Always wash your wigs very gently! Do not brush them while they are wet, and don't squeeze or wring them.
3. Only use plain warm water (not hot) and shampoo that is made for wigs to wash your wigs.
4. Allow wigs to air dry on a wig stand
General Tips
- Store wigs on a wig stand to help them keep shape
- using a high quality wig cap will help keep your head cool and comfy on long days
Thanks for choosing Kawaii-B! Your number one place for Kawaii in the UK!