What is a Bento?

A bento is a Japanese boxed lunch usually taken by high school students to school.

The typical food you can find are rice balls, meat or fish, vegetables that are either cooked or pickled and ham.

You can also often see them in anime's based in schools.
What is a Character Bento?

Character bento's or "Kyaraben" as they are known in Japan is the name used for a bento arranged cutely as characters such as anime characters (For example One Piece) or animals (For example Bunnys)

The options are endless.
Important parts of a character bento:
Sausage Octopus
You will usually see sausages in a bento. Character bento's add an extra touch of cuteness by shaping them like octopuses. They are also easy and quick to make.
All you need is your chosen amount of sausages (For example three which is usually the amount however if you really like them then you can have more)
Using a knife, you make four cuts about half way along the sausage while its on its side. This will make "Legs" for your octopus. Place them on a frying pan on medium heat and wait till they are cooked. It should take 4-6 minutes for them to cook. Sesame seeds are usually used to make eyes for your octopus. Wait for them to cool before positioning them in your bento.
Rice
Rice is usually seen in bento's in the shape of a triangle and are known as "Rice Balls" or "Onigiri" however with character bento's, there are so many choices for shapes to make out of rice. Decide who your favourite Kawaii character or anime character (Going to take a lot of effect though)
Using molds, you can easily make rice shaped characters including Rilakkuma and Hello Kitty.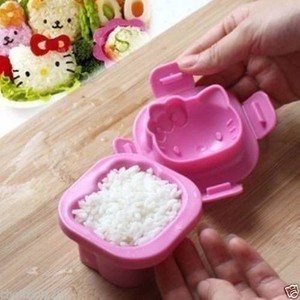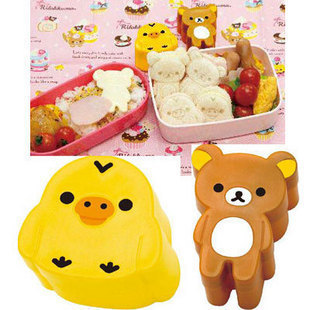 Click here to see more molds.
Slices of seaweed can also be used for details such as eyes and noses.
Meat/ fish
If your a vegetarian, you can make a bento without any meat but this part is with. The type of meet which is usually used is chicken or beef. They are also in small portions
Ideas: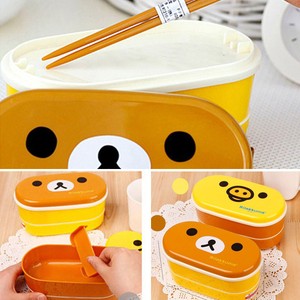 Containers
Bento's are usually split into smaller sections within a lunch box styled box and have a separate type of food in each.You can find a lot of boxes for an affordable price here.

Click here to see more bento supplies from JBOX such as the bento box above.
Cutter sets can also be used to cut bread, ham or other foods.Click here to buy the cutter set.
modes4u Bento supplies
That's it for today's post.
Do you make bentos? Or what type of Bento character would you want to make?
comment below!
Thanks for choosing Kawaii-B! Your number one place for Kawaii in the UK!