Decoden or Dekoden which is short for "Decoration Denwa". Denwa means phone, the translation is literately Decoration phone. Despite having "Phone" in the name, Decoden can be used on anything from phone cases, to nails, to circle lenses cases to mirrors. Hope you enjoy it!
It is possible to buy decoden phone cases and other objects online. For phones they usually fit smartphones such as iPhones or Samsung Galaxy. Before buying you have to double check that it will fit what type of phone your buying it for.
Supplies Decoden nails, phone cases and supplies to make your own. It is a little pricy ($39.99 for the Decoden nails below) however they do have a lot of designs perfect for Hime Gyaru.
There are also a few places where you can buy your own things to add a special DIY Decoden touch to anything.
candy crystal
is a UK online store that supplies accessories for Decoden. You can also buy other things including plain but coloured ring bases and whipped cream clay.
You can also find a couple of Decoden supplies on eBay!
Other places:
Things you will need for Decoden:
1. Deco cream
Acts as a glue to stick things to the item however it looks cuter then messy glue. It can be pretty expensive at times.
2.Cabochons or "gems"
Cabochons come in a variety of styles, from Hello Kitty to ice creams to chocolate.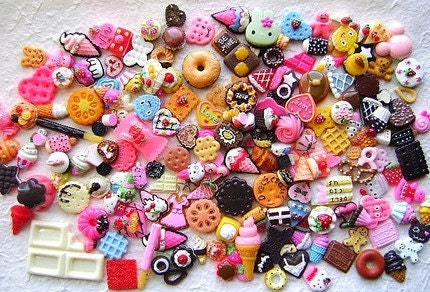 3. The thing you want to decorate
Online you can buy plain phone cases which you can use for decoden. You can also decorate your camera, mirror case or anything you can decorate.
That's it for today's article. Do you prefer to make your own Decoden? Or do you prefer to buy some that are already made? Comment below!
Thanks for choosing Kawaii-B! Your number one place for Kawaii in the UK!