Its two months till Christmas.
As you may know, being a Lolita is expensive however in this article are 5 inexpensive Christmas Presents, perfect for Lolita's. Hope you enjoy it!
1. Kawaii plushies
Plushies of Kawaii character such as My Melody, Hello Kitty, Arpakasso's and Rilakkuma are a perfect, cute and inexpensive idea. eBay is a good and cheap place to go to look for ones within a budget.
2. Hair accessories
Hair accessories such as Hair bows, hair-clips and other hair accessorizes such as star shaped clips are a perfect idea and most of them are under £15. If you want, you can also buy brand hair accessories for an affordable price.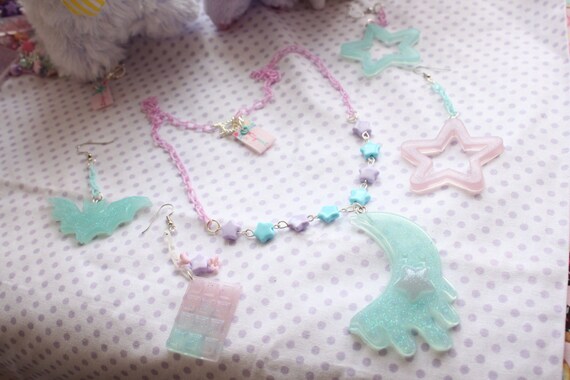 3. Jewellery
Jewellery add an extra touch of Kawaii to any coord. Hearts, moons and stars are a popular symbols seen in Lolita. Click here to buy the jewellery in the picture above. Etsy and StoreNvy are good places to go for Jewellery.
4. Socks
What Lolita doesn't love OTK or Thigh high socks? Socks can change a coord so any Lolita will likely enjoy Kawaii socks. From Secret shop to other brands.
Even brand socks such as Angelic Pretty can be brought for
under £20.
5. Stationary
From a variety of stores you can buy Kawaii stationary such as deco tape or doughnut shaped rubbers. These can bring Kawaii to every day life, adding a bit of happiness. Tofu Cute and Art Box offers a lot of cheap but Kawaii stationary that will bring a smile to the face of your Lolita friend.
Thanks for choosing Kawaii-B! Your number one place for Kawaii fashion and culture!
Our Forum
: Make new friends and join in discussion